I have a bit of an Oscars hangover; I was up until almost midnight last night watching the show and obsessing over the gowns. The Oscars are a big event in my home, I spend all day wondering who's going to wear what and then watching the red carpet coverage for four hours. I love it. It's a good thing we have two televisions in our home, my poor husband spent all night downstairs while I was in our bedroom with my notebook scribbling down who was wearing whom and my thoughts about the look. I'm dedicated, what can I say? I'll be honest, there wasn't a single person who I thought did absolutely terribly; I was pleasantly surprised by the amount of class and elegance I saw on the red carpet. Way to go ladies, I'm impressed! So, without further ado, here are my best dressed of the night!
1. Michelle Willams in Louis Vuitton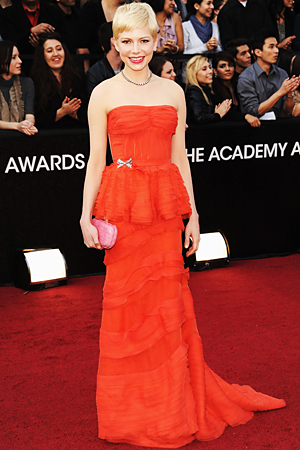 I love her, I just love her so much. She is, hands down, one of my favorite actresses, and in my opinion, one of the most beautiful women. She's just so delicate and feminine, right? This color dress fits her like a glove and the color is absolutely purrfect for Spring (but you guys already knew how obsessed I was with coral). I think she's just so effortlessly chic and can do no wrong. Aaand, I'm slightly jealous that she still looks like a bombshell with that pixie cut.
2. Cameron Diaz in Gucci
The color and sparkle on this dress are so elegant. I'm a little bummed that she didn't accessorize more (either with her hair, make-up, or accessories), but that's just the way she is! I think a pop of color, like a bright red lip would have made her stand out a bit more. But the dress itself is beyond gorg.
3. Stacy Kiebler in...wait for it...Marchesa
Ahhhh...it looks like liquid gold, doesn't it?! This dress looks like it's just dripping off her. No need for crazy accessories here, since that dress speaks for itself (and she had George Clooney). I'm obsessed with Marchesa and pretty much LOVE anything they make.
4. Gwyneth Paltrow in Tom Ford
I was cleaning my room when I saw her on the red carpet and I literally dropped what I was doing, ran to the TV and said, "OH. MY. GOD.". No joke, I'm in love with this dress and cape. It's a sad day when you realize you will never be so cool as to be able to pull off a white cape on the red carpet, but Gwyneth embodies all that is cool and chic.
5. Jessica Chastain in Alexander McQueen
I'll admit, this dress took me awhile to get used to. I didn't love it at first, I was kinda on the fence about it, but the more I looked at it and saw the intricacies, I fell in love. I love how her hair complements the gown too, that golden red is BEAUTIFUL. I remember looking at her face too and thinking that her make-up was spot on-so elegant, but in an understated way. She let the dress take center stage-which was the right thing to do.
6. Octavia Spencer in Tadashi Shoji
Prime example of a woman knowing and dressing to her body-she looks AMAZING! I love how the beading came in at her waist to give her a gorgeous hourglass figure. The little train added an extra touch of elegance, and her accessories and hair were spot on. Congrats on the win, Octavia (best acceptance speech of the night, too)!
7. Ellie Kemper in Armani Prive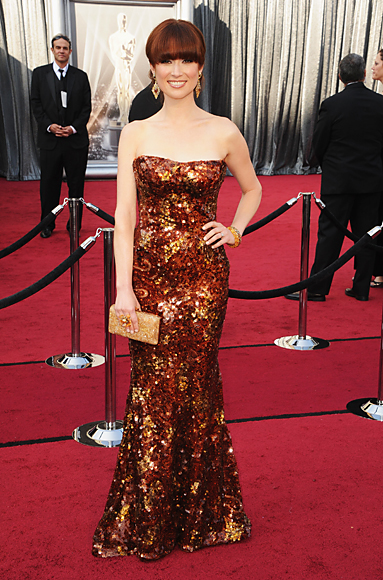 The color of this dress was so beautiful. I love how perfectly it complements her hair too (which, btw, looked so polished and beautiful).
8. Giuliana Rancic in Tony Ward
Oh man, I loved this so much. She predicted a lot of white, and although there was a lot less than she had though, she still looked angelic in it. I love the design on the shoulders and how everything is structured, but still extremely elegant. The dark red lips really topped off the look as well.
So there you have it, my top pics! What were your faves?
Ciao!