It's one of my favorite days of the year-Oscar Sunday! It is my ultimate dream in life to walk the Oscars red carpet, and I love spending half the day drooling over gowns, jewels, and manicures. Plus, seeing some of those Hollywood dudes in tuxes ain't half bad either.
The thought of picking out what I'd wear if I were ever lucky enough to attend makes me break out in hives, and choosing my favorite gown from year's past is nearly impossible (but I'll try for you).
Check out this illustration of what each Best Actress winner wore to Oscars' past...
I mean...come on. Does it get any more classic than Grace Kelly?! And I'm just obsessed with that Dior on Reese. So gorgeous (and can we talk about "Walk the Line"...ummm, wow).
I looooooved Jessica Rabbit Chastain last year, as well as Gwyneth Paltrow from 2012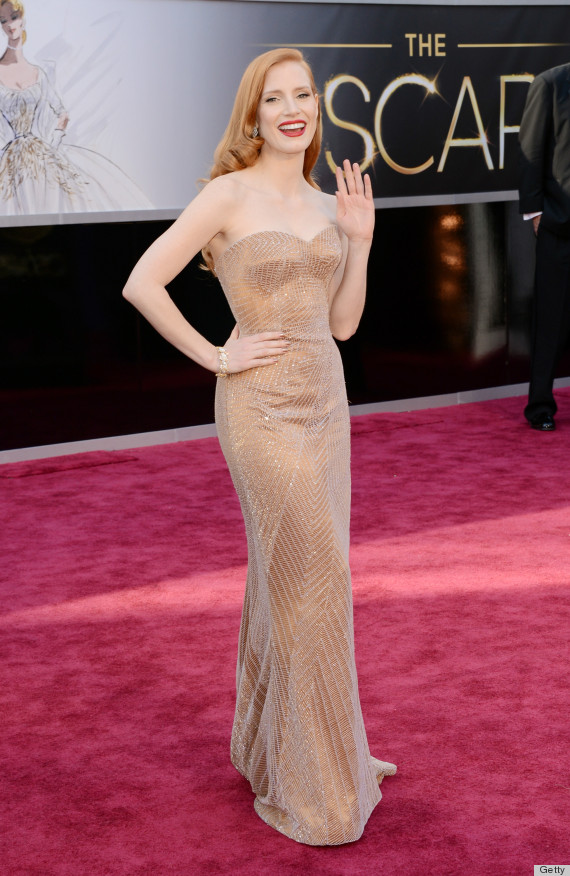 That cape. I die.
Just for kicks, I threw together some boards on
Polyvore
, which one is your favorite? I'm obsessed with all of them, but have always said I'd wear Marchesa if I ever got the chance. Although that Elie Saab has a cape, and we know by now how I feel about those...
This gown is a little edgy, and I love that. B&W is a huge trend this season, and I'm totally in love with those Nicholas Kirkwood pumps.
I think this is the gown I'd choose, because, well, who wouldn't want to feel like Cinderella on their big night? Marchesa is great with dreamy gowns made of tulle and lace (remember that Olivia Wilde dress? No? Let me refresh your memory)...
This was my first introduction to the world of Marchesa and I've been in love ever since. Can you blame me?!
This look reminded me of Grace Kelly. I love the powdery blue and pink together, it's just so 1950's Parisian to me (at least what I dream it would be). The silhouette of that gown is just plain gorgeous too.
There's nothing NOT sexy about this ensemble. Look at those cutouts! Look at those heels! Even the clutch oozes sex.
I don't need to say much about this one, besides the fact that it's my Little Red Riding Hood-Cinderella hybrid. Don't those shoes look like a more goth version of the infamous glass slippers? And we all know you can't go wrong with red soles. You just...can't.
So, if you were attending the Oscars today, who would you be outfitted in? Prada? Zac? Stella? Oscar? Share your choices with me, and let me know who rocked your all-time favorite look!
Keep up with Carlea Jane on Facebook too, I'll be live commenting on the red carpet looks (from my little townhouse in Upstate NY)!