How was everyone's weekend? Winding down after the craziness of the 4th? We had a whirlwind of a holiday, J had some extra time off, so we got to spend lots of time as a fam.
And since I quit my job (yep, I quit-long story), I've been playing Suzie Homemaker again. My house has never been so clean. Oh, and I took it upon myself to finish all the DIY projects and room makeovers I had been putting off. So it's been fun!
It's been awhile since I've done a "Steal Her Look..." post, so I figured I'd sneak on over to
People Style Watch
's website and see what looks we could steal this week. I found a couple looks that I really dug, and I'm going to share them with you! As always, make them your own-and enjoy!
First up, we have Demi Lovato. Let me just say, I always thought she was just another annoying Disney star, but after reading her interview in Glamour, I totally changed my opinion on her. She is a super strong woman and really inspirational. She's the newest judge on X Factor too (along with Miss B. Spears), so I'm excited to watch this season!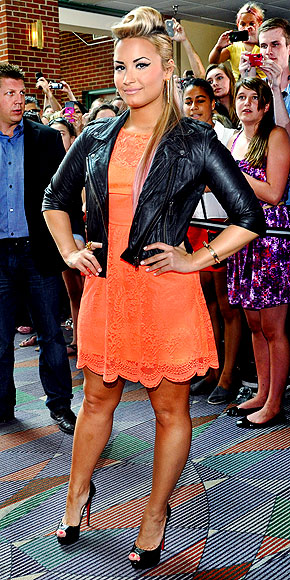 Next up, we have Olivia Palermo, who is always super chic. She rubbed me the wrong way on "The City", but I now respect her a bit-the girl knows how to do PR. If I could have a career half as successful as hers, I'd be happy.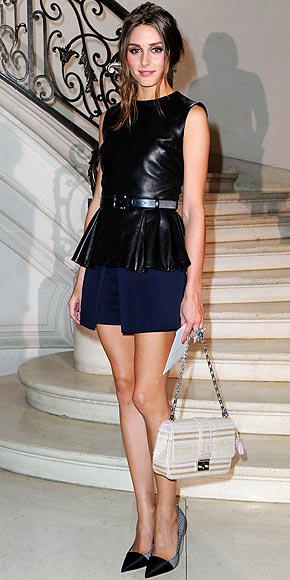 She is rocking a leather peplum top, but finding one of those under $50 will be nearly impossible. I did find a faux version, but that ran $89 at
Piperlime
. This
Hard Rock Peplum Top
looks like it's leather, so it adds that rock star vibe to the ensemble. Since the top is fairly elaborate, stick with a simple short like the
Diamond Shorts
. These
Anne Michelle "Momentum"
pumps pull everything together, and a
Mac Belt
finishes the look.
That's all for tonight, folks. I'm somehow freakin' exhausted, so it's off to bed for me!
Happy shopping!