How did everyone make out for the holidays? Does anyone else feel like they gained a good 10 lbs? I always eat way too much cheese, drink too much beer, and just generally overindulge during the holidays. But I enjoy every single moment of it, so I suppose it's worth it.
I must say, I never appreciated the day-after-Christmas sales until today. Ya know why? Because I've never gotten a jacket for a mere $2.94!!! That's right, Old Navy had all of their jackets for 75% off, and I had a $10 rewards coupon, so my jacket was under 3 bucks. It was insane, I tell ya. Officially a way better shopping day than Black Friday-and I'll remember that for next year. Actually, I think I may propose that we move our celebrating until the weekend after Christmas-think of how much money we'll save! I doubt my family will go for that, but it's worth a try.
Anyways, I'm still in a pickle-I have no dress for NYE, and it's THREE days away. Didn't I say earlier that I was bound and determined to have a dress ordered by now? I think I even said I'd have shoes ordered. Welp, that obviously didn't happen, and I'm in the same situation I find myself in every single year. I've got a shopping appointment on Saturday morning with a girlfriend of mine (read: NOT my husband), and I WILL find a dress. Repeat, I WILL FIND A DRESS.
So, while I try to scavenge up a last minute outfit, I'm going to distract myself with some other little pretties that I've come across in my hunt. Check 'em out and, don't be like me, order 'em now. Trust me, you'll thank me in a few weeks!
I love this for spring. Hopefully the acid wash trend is still "in" and you don't end up looking like an extra on "Saved By The Bell". I think you'll be safe, and it's a total steal at under $35. You could add a colorful belt, put a colored tank underneath, or even pair it with leggings or tights during these colder months.
Love Culture
's entire website...they have some
killer
leggings, and I am just dying to get my hands on them.
Oh, and this puppy t-shirt is pretty adorable, no?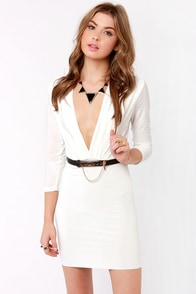 Lock and Keyhole Plunging Dress- Lulu's $35
I loooooooooooooove this! The belt adds a touch of elegance, but you could also wear this dress on its own with a super sparkly statement necklace. So hot.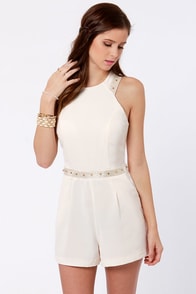 Croc My World Studded Romper- Lulu's $49
You guys know by now that I'm obsessed with rompers. I would wear one every single day if I could, and if I ever get to a permanently warm climate, I will. I love the elegance of this studded and faux-gator texture romper. The length is perfect, and the color can easily be dressed up. I love it with gold espadrilles and a sparkly cocktail ring. Keep it simple and chic, especially on those hot summer days.
'Tis all for today, I'm debating whether or not I want to brave the cold and snow and make a run to the mall to try and find a last minute outfit...or if I should just wait until tomorrow and pray I find something that will work. Who wants to bet how long it will take me to convince my husband to come along? ;)
Happy Shopping, my loves!